Highly regarded as one of the best Muay Thai fights ever: Watch
Sakmongkol vs Jongsanan #5
Sakmongkol
and
Jongsanan
were both champions during the most competitive eras of Muay Thai history. They both met in the ring several times, culminating in 8 fights with Jongsanan reportedly winning 5 of them.
This particular fight is one an example of a what I mentioned in the last post: A fast paced-back and forth showcase of technique from the 80's and early 90's. These guys don't waste anytime hitting the crap out of eachother (although this posted version is a songchai broadcast version...which tends to cut the fight to its most exciting parts).
Distance
: There's a reason why our class preaches using proper distance...Notice that
once either fighter got too close when delivering punches they would switch right to using brutal elbows
. Something to think about
Anyways, Enjoy!
Sakmongkol Sitchuchoke: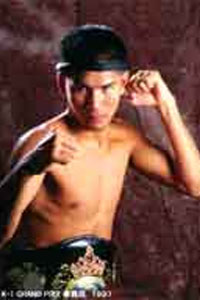 Height: 5'9"
Weight: 150-165 lbs
Club: Songchai Boxing
Record: 250 fights- 190 Wins
Titles:
- Two-time Lumpinee Champion
- WMTC World Champion 70kg 1997
Jongsanan "Wooden Man" Fairtex
Height: 5'8"
Weight: 154 lbs
Club: Fairtex
Record: 98-28-0 (23KO's)
Titles:
- 2x ISKA World Champion
- IKKC Junior Middleweight World Champion
- IKF North American Champion
- 2x Luminee Champion